Farsoon FS421M a CAMS System
ask for details
Introducing CAMS FS421M
CAMS – Continuous Additive Manufacturing Solution, is developed to address the growing movement of the additive industry into true manufacturing as well as future models of production such as Industry 4.0. The CAMS vision is to offer continuous AM production through vertical scalability and modularization capable of integrating into any industrial manufacturing facility. FS421M is the first metal system designed under CAMS concept for industrial scale series production.
Medium-Large Scale Metal Laser Sintering System with Continuous Production Capability.
Description
Additional information
cross-sell
Description
Extensive build envelope of 425 x 425 x 420 mm
High productivity with dual 500-watt lasers option
 CAMS Concept boosts machine turn-over rate
DESIGNED FOR PRODUCTION
The FS421M additive metal melting system is a true manufacturing systems capable continuous production. With its 425x425x420mm build cylinder the FS421M is capable of producing large metal parts from a wide range of metal powder materials. The large build volume combined with a multi-laser and fully digital optics system enable enhanced production speed while the internal rail system enables the fast exchange of cylinders between builds.
EFFICIENCY + SAFETY
The FS421M comes equipped with an all new closed looped powder handling system. Powder supply, transport, feeding, and recycling are all integrated into one inert system. The FS421M's powerful and highly efficient air filtration systems allows for the processing of reactive materials while it's high capacity and auto-cleaning capability allows for extended use between filter changes.
OPEN SYSTEM
The FS421M like all Farsoon systems allows for complete freedom of operation by its users. This means that all machine parameters are unlocked for the user as well as an open material policy allowing for previously-impossible levels of freedom and flexibility when it comes to additive metal melting production. In addition, the in house Farsoon software allows for ease of use with both an advanced user interface as well as a touch screen based production interface for everyday use.
Industrial Applications with FS421M
With the industrial scale build size and enhanced production capability, CAMS FS421M platform is the optimal series production tool for high quality medium to large sized end-use components for a significant lower price per part.
In-line Tube & Shell Heat Exchanger
Turbine Cooling Testbed
Shoe Mold
In-line Tube & Shell Heat Exchanger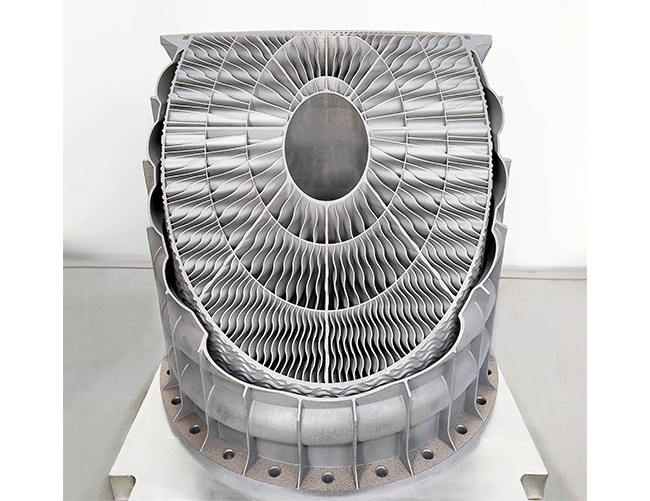 Machine: FS421M-2 Material: Aluminum Size: 412 x 412 x 380 (H) mm Build Time: 326 Hours
This in-line tube and shell heat exchanger is purpose-built for the industrial petroleum industry. Rapid heating and cooling crude oil and its many byproducts during the refinement process is critically important to safety and cost. This integrated heat sink component allows for in-line cooling at a fraction of the cost of expensive, space-consuming traditional equipment. Fluid cavity separation allows for cooling or heating of the petroleum with no contact between coolant and production fluid.
Turbine Cooling Testbed
Shoe Mold
Additional information
Brand
Country

China

External Dimensions (L×W×H)

2770×3220×2350 mm (109.1×126.8×92.5 in)

Build Volume

16.7×16.7×16.5 in, 425×425×420 mm

Net Weight

Approx. 3450kg ( 7605.9 lb ) (FS421M Single-laser), 3500kg ( 7716.2 lb ) (FS421M-2 Dual-laser)

Layer thickness
Scanning Speed

Max. 15.2 m/s ( 49.9 ft/s )

Laser Type

Dual Lasers, 2×500W (FS421M-2), Single Laser, 1×500W (FS421M)

Scanner

Dynamic focusing system

Inert Gas Protection

Argon/Nitrogen

Average Inert Gas Consumption in Process

3-5 L / min

Operating system

64 bit Windows 10

Software

BuildStar, MakeStar®

Data File Format

STL

Key Software Features

Open machine key parameters, real-time build parameter modification, three-dimensional
visualization, diagnostic functions

Power Supply

EUR/China: 400V±10%, 3~/N/PE, 50Hz, 40A US: transformer sold with machine

Operating Ambient Temperature

22-28°C (71.6-82.4℉)

Materials

316L, AlMgScZr, AlSi10Mg, CuSn10, HAYNES 230, HX, IN625, IN718, TA15, Ti6Al4V

3D printers

DLMS

Printing material

Metal