Farsoon eForm
ask for details
Introducing eForm
With robust small-batch manufacturing capabilities and best flexibility with material selection on the market, eForm is able to produce high quality, repeatable parts that can meet the highest industry standards. Weather you are new to the additive manufacturing market, or looking at expanding your plastic manufacturing production capabilities, eForm can perfectly meet your specific needs of productivity, economy, and reliability.
Accessible industrial Plastic Laser Sintering machine for your additive manufacturing needs.
Description
Additional information
cross-sell
Description
COST PERFORMANCE
The eForm plastic laser sintering system is an entry level system with all the functionality and power of an industrial level system. With state of the art processing systems combined with Farsoon's powerful control software the eForm is able to achieve highly detailed and functional parts.
PRODUCTION INTERFACE
The eForm comes standard with a streamlined touch screen based UI configuration for the production environment. With this intuitive interface operating laser sintering technology has never been easier.
COMPREHENSIVE SOFTWARE
The eForm like all Farsoon systems is offered with a full set of self-developed Farsoon software. This powerful set of tools enables a variety of functions from build preparation to machine control and operations while remaining completely compatible with third party software and material.
Industrial Applications with FLIGHT® 403P-2 Series
The optimal performance of FLIGHT® 403P-2 Series combining extreme sintering speed and high feature resolution has opened up many potential markets and applications for true series production, such as electronic components, robotics, specialized tools & models, battery units, filter modules as well as many consumer products.
Guide for DDH Surgery
Automotive Carbon Canister
Guide for DDH Surgery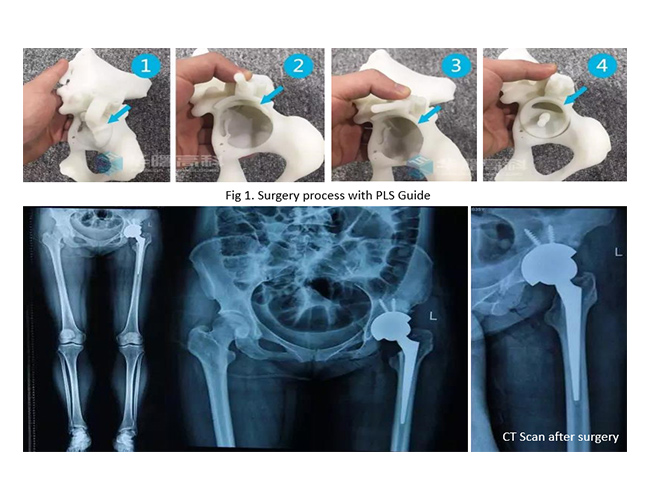 Machine: eForm  Material: FS3300PA
The 3D printed surgical guide is used in DDH Surgery (Developmental dysplasia of the hip) requires a high level of operational precision. Designed from CT scan imaging data and produced on Farsoon's eForm system, the surgical guide helps doctors with patient communication and physical practice in advance; it also enables faster, more accurate position for the depth and angle of the implant during the surgery, reducing overall operation time and complications compared to the traditional surgery.
Automotive Carbon Canister
Additional information
Brand
Country

China

External Dimensions (L×W×H)

1735×1205×1975 mm (68.3×47.4×77.8 in)

Build Volume

250×250×320 mm, 9.8×9.8×12.6 in

Net Weight

Approx. 1700 kg (3747.9 lb)

Laser Type

CO2 laser, 1×30W

Scanner

High-precision galvo system

Layer thickness
Volume Build Rate2

Up to 0.8 L/h

Scanning Speed

Max. 20 m/s (65.6 ft/s)

Max. Chamber Temperature

190°C ( 374℉ )

Thermal Field Control

Eight-zone heater & Intelligent temperature control systems

Temperature Regulation

Continuous real-time build surface temperature monitoring & optimization

Operating system

64 bit Windows 10

Software

BuildStar, MakeStar®

Data File Format

STL

Key Software Features

Open machine key parameters, real-time build parameter modification, three-dimensional
visualization, diagnostic functions

Inert Gas Protection

Nitrogen

Power Supply

EUR/China: 400V±10%, 3~/N/PE, 50/60Hz, 32A, US: transformer sold with machine

Operating Ambient Temperature

22-28°C (71.6-82.4℉)

Materials

FS3150CF, FS3250MF, FS3300PA, FS3401GB, FS4100PA, Ultrasint® PP nat 01

3D printers

SLS

Printing material

Polyamide