Farsoon FS200M×2
ask for details
Introducing FS200M×2 System
As a new addition to our medium-sized metal LPBF portfolio, the FS200M×2 is equipped with a versatile build volume of 425 x 230 x 300 mm and powerful dual 500-watt laser configuration. The FS200M×2 ideal for medium to high volume metal series production and prototypes with fast manufacturing turn-overs rates, versatility, and impressive ROI.
Highly Productive + Scalable Metal Production System.
Description
Additional information
cross-sell
Description
Versatile build envelope of 425 x 230 x 300 mm
High production speed with dual 500-watt lasers
 Fast manufacturing turn-over rate
READY FOR SERIES PRODUCTION
Featured with a versatile rectangular build envelope of 425×230×300mm and two powerful 500-Watt fiber lasers, the FS200M-2 is created to meet the highest manufacturing standards for series production in molds & tooling, automotive and many other industries; addressing customer's pain points such as productivity, cost-performance and ease of use.
SIMPLY PRODUCTION
TWith the combination of advanced dual-laser scanning strategies, industry-leading communication speeds, robust recoater design, the FS200M-2 is able to achieve faster production speed while ensuring required surface quality. The high-efficiency top-feed powder system and the convenient powder delivery unit offers great efficiency for material handling without disturbing the build process.
REDUCED MANUFACTURING COST
Equipped with an integrated, two-stage filter module, the FS200M-2 is suited for longer manufacturing operation and helps reducing the cost of the filter changes. The compact machine design of 3.48 square meters footprint enables denser, flexible factory layout for maximum throughput yield per floor area for a true economical production cost.
Industrial Applications with FS200M-2
Farsoon's FS200M-2 is a high-value proposition metal system in pursuit of productivity, cost-efficiency and ease of use for a wide range of industrial applications. The rectangular build chamber is well suited for fabrication of large parts which favor one axis, such as applications in aerospace, automotive and tooling.
Nozzle with Internal Cooling Channel
Shoe Mold
Automotive Heat Exchanger
Nozzle with Internal Cooling Channel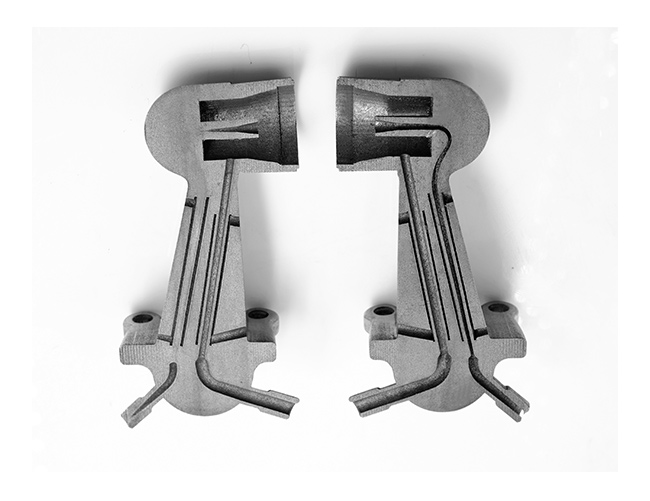 Machine: FS200M-2 Material: Inconel 718 Size: 72 x 67 x 136 (H) mm Industry: Aviation
This fuel injection nozzle is a key component developed by a leading aviation industry cooperation. The manufacturing of this part is extremely challenging due to the complex internal geometries. Now with Farsoon additive technology, the engineers are able to achieve structural integration from 20 parts to only 1; and adopting many advanced designs such as optimized wall thickness and internal channels; During the functional test it shows a significant improvement in fuel efficiency and engine performance, which will eventually contribute to a longer nozzle life span.
Shoe Mold
Automotive Heat Exchanger
Additional information
Brand
Country

China

External Dimensions (L×W×H)

2320×1500×2000 mm (91.3×59.1×78.7 in)

Build Volume

16.7×9.1×11.8 in, 425×230×300 mm

Net Weight

Approx. 2000 kg (4409.2 lb)

Layer thickness
Scanning Speed

Max. 10 m/s ( 32.8 ft/s )

Laser Type

Dual fiber lasers, 2×500W

Scanner

F theta lenses

Inert Gas Protection

Argon/Nitrogen

Average Inert Gas Consumption in Process

3-5 L / min

Operating system

64 bit Windows 10

Software

BuildStar, MakeStar®

Data File Format

STL

Key Software Features

Open machine key parameters, real-time build parameter modification, three-dimensional
visualization, diagnostic functions

Power Supply

EUR/China: 400V±10%, 3~/N/PE, 50Hz, 25A US: transformer sold with machine

Operating Ambient Temperature

22-28°C (71.6-82.4℉)

Materials

316L, 420, AlSi10Mg, Maraging Steel Grade 300, ST1

3D printers

DLMS

Printing material

Metal