Farsoon FS273M
ask for details
Introducing FS273M System
FS273M metal system – the next generation of FS271M – offering single or dual laser options for commercial orders. Farsoon's FS273M is designated to address productivity, cost-efficiency, and industrial workflow in the metal additive manufacturing. With an industrial-sized 275×275×355mm build envelope, the FS273M is a powerful and versatile production tool of larger volume parts with a wide range of industrial metal materials.
High Value Proposition, Medium-frame Metal Production System.
Description
Additional information
cross-sell
Description
Versatile build envelope of 305 x 305 x 400 mm
Highly productive single or dual 500-watt lasers
 Top cost-performance on the market
SIMPLY METAL PRODUCTION
With an industrial-sized 275×275×355mm build envelope as well as an expanded powder feeding cylinder size, FS273M offers streamlined metal production of larger volume parts with a wide range of industrial metal powder materials.
COST-PERFORMANCE
The FS273M metal laser sintering system is a high value proposition industrial production tool. Advanced digital optics system, robust controls, and truly open parameters gives users a much wider range of process capabilities. The FS273M is able to achieve highly detailed, functional parts while maintaining a price competitive advantage. Compact machine design enables denser, flexible factory layout for maximum throughput yield per floor area at an economical additive production cost.
OPERATION EASE & GOOD SERVICEABLITY
The FS273M features an integrated, long-lasting filtration system which allows extended operation time for longer builds and reducing the cost of filter changes. Other convenient features including pre-heated base plate, robust recoater operations, removable overflow containers, and a powder supply sufficient for a full build ensures ease of operation and good serviceability
Industrial Applications with FS273M
As our next generation of our medium-sized metal system, the FS273M system has been through years of optimizing of the productivity, machine performance through continuous collaboration with our industrial partners; meanwhile keep pushing the true industrialization of the metal additive manufacturing by reducing customers' cost of operation, especially for tight margin industries like molds & tooling.
Cavity & Core Injection Mold
Knee Implant
Automotive Suspension Upright
Pen Mold Insert
Cavity & Core Injection Mold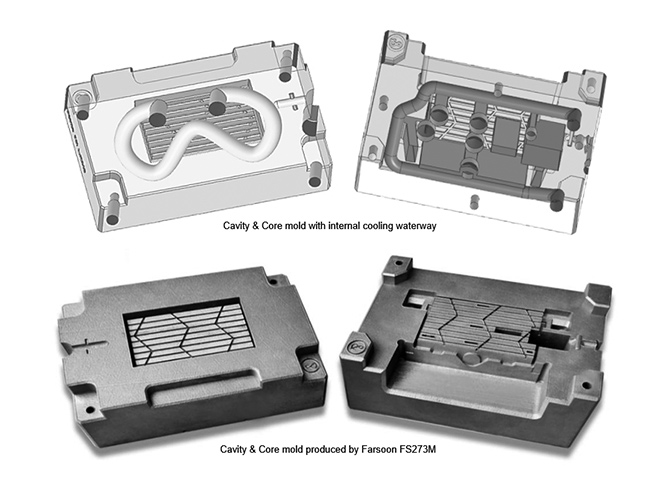 Machine: FS273M-2 Material: 420 Stainless Steel Build time: 20 hours
This set of cavity & core mold is the key components in the whole injection molding system to produce router shell. Because of its complex structure with internal cooling channels, the traditional production takes more than 2 weeks including machining, assembly and post processing. Now with Farsoon's 273M System, the engineers are able to combine multiple parts into a single part with good material melting uniformity. It also achieved a reduced lead time of only 48 hours and improved surface resolution without the need for further post-processing.
Knee Implant
Automotive Suspension Upright
Pen Mold Insert
Additional information
Brand
Country

China

External Dimensions (L×W×H)

2315×1650×2105mm (91.1×65.0×82.9 in)

Build Volume

10.8×10.8×14.0 in, 275×275×355 mm

Net Weight

Approx. 2200 kg ( 4850.2 lb )

Layer thickness
Scanning Speed

Max. 15.2 m/s ( 49.9 ft/s )

Laser Type

Dual Lasers, 2×500W (FS273M-2), Single Laser, 1×500W (FS273M)

Scanner

F theta lenses or dynamic focusing system

Inert Gas Protection

Argon/Nitrogen

Average Inert Gas Consumption in Process

3-5 L / min

Operating system

64 bit Windows 10

Software

BuildStar, MakeStar®

Data File Format

STL

Key Software Features

Open machine key parameters, real-time build parameter modification, three-dimensional
visualization, diagnostic functions

Power Supply

EUR/China: 400V±10%, 3~/N/PE, 50Hz, 15A US: transformer sold with machine

Operating Ambient Temperature

22-28°C (71.6-82.4℉)

Materials

316L, 420, AlMgScZr, AlSi10Mg, AlSi7Mg, CuCrZr, H13, HX, IN718, Maraging Steel Grade 300, Pure Copper, Ta, TA15, Ti6Al4V, W

3D printers

DLMS

Printing material

Metal